Omar Hakim needs no introduction, being one of the most successful drummers and session men of the past 40 years. I had the honor of interviewing him shortly after he became Chair of the Percussion Department at Berklee College of Music.
How did you first get exposed to music?
"I grew up in a music household, my dad was a jazz trombonist who played with Duke Ellington, Count Basie, and other famous Big Bands. Music was a part of family life and my aunts, uncles, cousins would all play music. My first gigs were with my father and them."
That means you started playing drums early?
"I started around 5 or 6 years old, got my first professional gig at 10 with my father playing around New York City and eventually started touring at 15. From 10 to 15 I was playing with local cover bands, doing wedding gigs, and playing at parties but professionally because you're getting paid. I was in school, but playing gigs on the weekends."
When did you start playing original music?
"When I was 15, I went on tour with this "one hit wonder" RnB band which got a deal with Arista Records, it was a project of a producer, Stan Vincent. We had this number one single which exposed me to studio stuff. The producer fell in love with my playing and started to call me for sessions. It was interesting to hang around the studios, the Hit Factory in New York City, I used to go there and I would see Stevie Wonder or Earth Wind and Fire."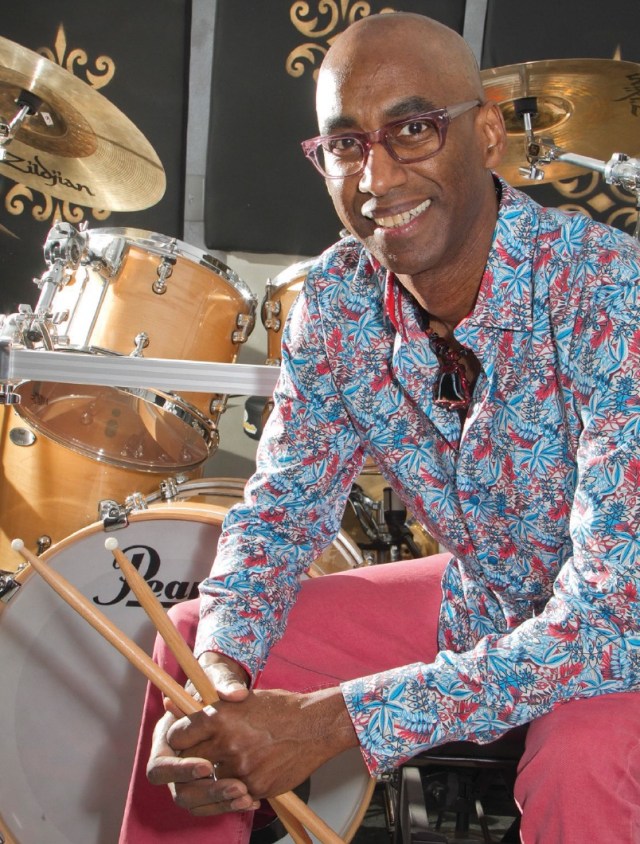 Did you try to talk to them and introduce yourself?
"Yes, because it was not a big deal to talk to them. Eventually I met the chief engineer who took me under his wing. I would call him and he would say: "Come down, you can watch me mix Donna Summer or John Lennon." All of that started when we recorded our album with the RnB band at this studio and then Clive Davis wanted us to do a follow-up but we never came up with it. We did not have a strong enough single for that."
But was there a moment where you told yourself "I am a professional drummer now"?
"After playing with my dad, things started to flow, like a snowball, from band to band, I was also playing a lot of styles. Jazz and bebop but also pop and rock with my friends. It was a very interesting way to grow up."
In every era, the technology drives the demand for how the music is consumed and purposed.
When did you become a full time musician?
"After high-school, even though I started during summers. I went to school with Marcus Miller and the first gig we did together was Bobbi Humphrey, the flute player who was pretty popular in the Jazz/RnB community. Then I auditioned for this rock singer who was managed by Bruce Springsteen's manager, Arlyn Gale."
How did the auditions work?
"There was a free newspaper, The Village Voice, which had "musician classified" in the back and we would look for gigs there."
With professional auditions?
"Sometimes it was really bad local gigs and every now and then, something big. We saw an ad which said "Drummer and guitarist needed for recording and touring act". We called the number and went to a studio for the audition. It was Patti Labelle. I knew the songs because they were all over the radio so I did not need to prepare for the audition and she hired me. […] Also, when a person gets a gig it is typical to bring your friends and I got many gigs like that."
Did you ever have to call people yourself to get gigs?
"I was very active, going to jams, making friends and building a network of people in the community. It would be musicians and vocalists who would hire me mostly."
What were the challenges you faced as a professional musician?
"Work as a professional musician can be seasonal. I had to find ways to work during the downs. I would save money for these periods. I would often have this 2-3 months break during December-February. Then I would get calls in February for a tour in the summer. So I had to figure out other income streams. I was also a singer and got interested in the piano and guitar. The owner of a record company told me to start a publishing company. My songs would get released and I would get performance royalties. Then I got interested in producing. Each hat would be something added to my income. I would sometimes engineer sessions for people and get paid. I've got songs on albums that went gold. It was a good thing I was able to do all of that. You have to be very creative because you only have so much time physically. These days things are different, with softwares, loops and samples. In every era, the technology drives the demand for how the music is consumed and purposed."
What do you think of the current state of the music business?
"It's not that people don't consume music, it grew from a collector's item ownership model to an access model. We're still dealing with the challenges of paying the musicians and artists. People say musicians need to get paid for streaming. There is a large pool of money that Spotify has been paying into, waiting for the music industry to make a decision regarding how it is going to be distributed. The good news is that it is going to create a new way of doing business. The artist who is savvy with the technology and has the ability to create and connect with their fan base will get gigs and find support. There are still opportunities to create merchandise, and to make the same money as someone who sells millions of copies, without paying 70% of that income to other participants."
Back to the professional aspect of being a musician, "networking events" are a big thing these days, did you ever go to those types of events?
"For me networking was the musicians and local scene and the community. We did not have the virtual network at that time. We used to play all the time with Marcus Miller and we were so tight people would call us together.
For many years we were the rhythm section for David Sandborn. I also toured the world with Victor Bailey in Weather Report but then played for Madonna with him as well."
By the way, how did you transition from Weather Report to Bowie?
"During my Weather Report time I was recording with Bowie through my friend Niles Rodgers. I knew him since we were teenagers."
So, you never had to "network", was it mostly your friends recommending you for gigs?
"Well that is the network. You meet them, you play with them and the next thing you know is you are doing things, playing gigs and building a community. When one person gets out there, they start pulling the rest of the community with them."
Would you advise aspiring musicians to try to build a community like this?
"Yes, the power of music is to get in a room together. The social networking is a beautiful way to reach fans and people who could potentially fall in love with your music."
Madonna was a genius at looking out into the world and understand fashion and recognize trends. She would surround herself with the right people and we watched her morph into something else each time. I worked with her for 8 years, it was an eye-opening experience, she was not a professional artist, she was a professional icon.
You were one of the firsts to experiment with drum machines, did you feel like it was the next thing?
"The drum machines changed my life, I had to make it a part of what I was doing, because I wanted to survive. I did not think it would take over but it just did. I needed to understand this, I had to focus, I was like "My career can't end before it starts!". As professional musicians, we do have to have our ears and eyes to the streets, not only work on our music, but we need to understand how our music is in service of our community."
Do you see any upcoming trends in the music today? Something new?
"I see a lot of great artists that I'm digging. I love Knower, and their interesting blend of EDM music with funk sensibility. I like the fact that Louis Cole is a multi-instrumentalist because that is the way I always approached music. There is also Thundercat and Snarky Puppy."
I like the fact that they are doing their thing, not trying to make pop music…
"Oddly enough, that is pop music. Pop music is the people that are daring enough to redefine it. It is only popular at a certain moment.  It is a movement that bubbles, it starts with a group of people who care about what they are doing. Then the movement grows around them and becomes mainstream. The same way I watched a little Chicago band called Earth, Wind and Fire go from a movement in the community to international superstars. When they started, they were trying to figure it out!"
And that would work better than trying consciously to be mainstream?
"If you're saying I want to be famous and make a pop record, the problem is that you're trying to hit a moving target. I have seen trends come and go but some artists are talented at packaging. Madonna was a genius at looking out into the world and understand fashion and recognize trends. She would surround herself with the right people and we watched her morph into something else each time. I worked with her for 8 years, it was an eye-opening experience, she was not a professional artist, she was a professional icon.
As a musician you need to discover your voice and then figure out how to deploy that voice. You have to be willing to fail, if you don't fall, that means you were not trying. Through that trial an error you will get stronger and focus on what you are doing. With a band like Weather Report, by the time they got to their 6th album you saw the music starting to crystalize into something and he movement, the fan base was part of that growth and they inspired generations of musicians. After a while I used to say: "What is a hit record? It is nothing more than something everyone agrees on. That's all it is. We all agree."